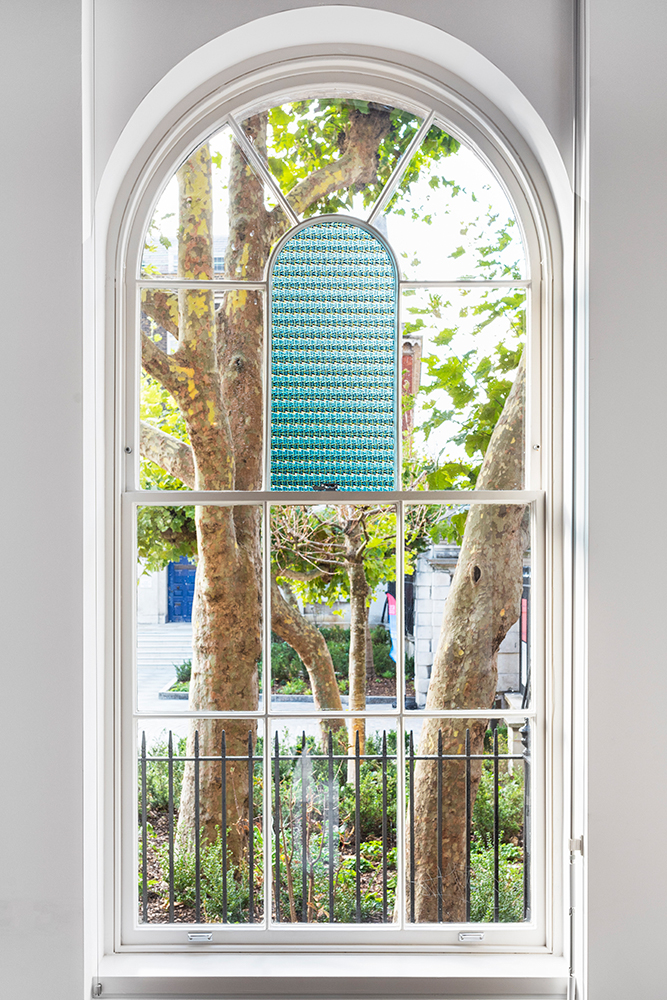 Look on me and be renewed, 2018 by Mark King at Science Gallery London. Photography: Thierry Bal





Current project: Look on me and be renewed (2018)
by Mark King in collaboration with Dr John Marsden and Changing 7
Garment tailoring by Bregje Cox and Shinkai Raza
This multi-faceted artwork was presented in the 'Free Will' section of HOOKED at Science Gallery London and on the ground floor of the building as a site-specific installation. Over the four-month duration of the exhibition digital manifestations of the project were created by the artist and presented on Instagram.
Look on me and be renewed invites us to reflect on the interplay between human beings, objects and environments, highlighting how visual prompts from our surroundings are connected to the behavioural patterns and rhythms that govern or determine our decisions and experiences.

Devised by artist Mark King in collaboration with Dr John Marsden, Professor of Addiction Psychology at King's College London and Changing 7, a group of people with lived experience of treatment and recovery from substance use, Look on me and be renewed was developed through a series of process-led workshops where the group explored the presence of visible and invisible patterns in our daily lives. The workshop sessions included garment customization, a photography field day in London Bridge and an analysis session that considered the cognitive impact of the built environment.

The methodology behind Look on me and be renewed comes from a clinical approach used by Dr Marsden that enables his patients to gain better control over their cravings and desires by identifying visual triggers in their local environment. Mirroring Dr Marsden's approach, each member of Changing 7 photographed the London Bridge area using disposable cameras, limited to only 27 film exposures. From those photographs, Mark King has extracted and reconfigured specific shapes and colours to create a series of vibrant patterns that are infused with a memory of the places or objects that inspired them. By reintroducing these site-specific patterns across the gallery, the public realm and digital domain, the artwork amplifies the repetitive interplay between people and their surroundings.

In the digital domain, King invites local, national and international audiences to engage with the project by taking photographs of their own surroundings and adding them to an expanding archive on Instagram with #lomabr. From the uploaded images the artist will create a limited series of bespoke patterns that will be posted to @L_O_M_A_B_R throughout the course of the exhibition.

Commissioned by UP Projects in partnership with Science Gallery at King's College London and Team London Bridge. Supported by Turning Point and Lorraine Hewitt House. Funded by Wellcome.

Enclothed Cognition Lookbook
model: Exaucer Ntela Simao
photo assistant: Chaka Welch
*Reversible kimono made in collaboration with visual artist Llanor Alleyne (images 18 & 20)


Enclothed Cognition is a collaborative project from Barbadian visual artist Mark King and Dutch fashion designer Bregje Cox. The collection is primarily inspired by the behavioral psychological theory of Enclothed Cognition. Particularly how a garment's symbolic meaning paired with the physical experience of wearing the garment combines to impact the wearer's performance in everyday tasks. Enclothed Cognition is also informed by King and Cox's shared interests in science fiction, functional clothing, architecture and future technologies.

Enclothed Cognition seeks to empower others by bringing awareness to the interplay between the clothes we wear, the built environment and the human mind. This collaboration combines a desire to address the underlying patterns that guide our behavior with the merging of new and old ideas. By incorporating workwear, formalwear, military wear and traditional garments, the collection not only leverages the inherent durability and functionality of these pieces, but also taps into their respective cognitive attributes. Thus, the wearer can feel empowered whilst navigating their surroundings through a new extended form of cognition.

Cox and King conceptualized, designed and produced the 2019 Spring/Summer collection incorporating King's mastery of environmentally derived patterns and Cox's expert fashion design and tailoring with keen attention paid to cut, scale and shape. The collection features a wide range of layerable pieces that fit many contexts. Its bold surface patterns are encoded with references to the built environment be it real world or digital. Each of the 13 patterns bear a unique title which speaks to the thesis of each sartorial piece:



ARTIFICIAL
AUGMENTATION
COMPUTER SIMULATION
CONNECTIVITY
EMPOWERMENT
EMPATHY
IDENTITY
IMMERSION
META
SIMULATION
UTILITY
VIRTUAL
VIRTUAL SIMULATION



Select pieces from the collection have been included in exhibitions in the Bonnefanten Museum (Maastricht, Netherlands) and the Cube Design Museum (Kerkrade, Netherlands).

The Enclothed Cognition 2019 Spring/Summer collection has been presented at Modefabriek trade fair(Amsterdam, January 2019), the FASHIONCLASH Festival (Maastricht, June 2018) and Ethno Tendance (Brussels, October 2018) group fashion shows.





Peace Room photographed in Breda, Netherlands
Commissioned by Flags of Peace

Like ocean currents, peace is disrupted by manmade and natural forces acting upon our daily lives. It leaves us with the choice to either wade through the troubled waters until we have reached our next peaceful destination or actively fight the reality that conflict is inevitable. With the understanding that we may always be subjected to ride waves of turmoil, we can demand that it will be brief. This flag serves as a reminder to work together in consistently making peace.




Peace Room, 2017
Archival inkjet print 13 x 19 in (33.02 x 48.26 cm)
Edition of 5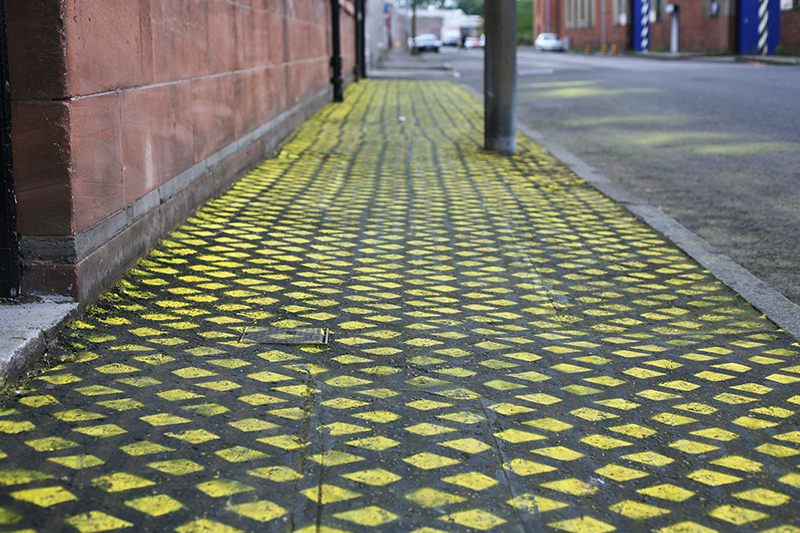 Wayfinding, 2014
Pigment Spray Chalk
6.67 x 65.6 ft (2.03 x 20 m)

Installation view of my public art commission for the David Dale Gallery as part of their IAI Commonwealth Games Programming.


My contribution to the Glasgow 2014 Culture Programme was a site-specific work made possible by the access provided by technology. Through virtual and interactive maps I embarked upon an exercise in wayfinding from a computer thousands of miles away in Barbados. Through mechanisms such as Google Maps I selected forms present in the architecture and manipulated them to create artworks that drew upon the location where my work was to be presented.

I chose chalk as my medium due to its ephemeral qualities. The resulting artwork was temporary much like the Commonwealth Games in Glasgow. Spectators from across the globe came into direct contact with the piece, with chalk from the artwork sticking to their shoes and hitching a ride to the neighboring sports venues. The combination of the elements and foot traffic slowly ate away at the pigment and ultimately returned the site to a state prior to my intervention.

Photographs by Rayanne Bushell


Empathic Loops/Ode to the Widow's Walk, 2018
Archival inkjet print 16 x 22.4 in (40.64 x 56.9 cm)
Edition of 5

Kimono made in collaboration with fashion designer, Bregje Cox.
---
studio@markkingismarkings.com